My Guiding Journey - Ms Hasna Alsagoff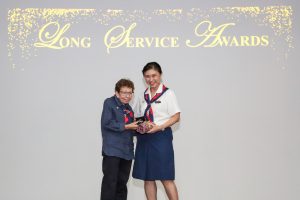 (Ms Hasna (Left) at the recent GGS Guiders' Conference. She received the 50 years Long Service Award.)
Which years were you involved in Guiding and in what capacity?
I studied at Kuo Chuan Girls' School from 1951 to 1961. It so happened that the Principal, Miss Monica Mary Sirkett was a Girl Guide Commissioner in Katong District. She started the Girl Guides in Kuo Chuan Girls' School when she became the Principal in 1947. In 1952, when I was in Primary 2, Miss Wee Geok Neo, who was the Brownie Guider or Brown Owl as she was known to us, came to the class and asked who would like to join the Brownies. I was one of the few who eagerly volunteered. We had the first meeting on a Saturday morning. From then on, I was hooked! There was no turning back. Fortunately, my mother encouraged me to carry on as she too had joined the Brownies when she was studying in a convent school in Penang where she grew up. She never had the opportunity to continue with Guiding as she was taken out of school to be married. I joined the Girl Guides in 1957. My first Guide Camp under canvas was at Skudai, Johore. KCGS 3
rd
Coy combined with St. Hilda's Girls School. We were in camp for 5 days and we enjoyed every moment. I continued with Guiding in 3
rd
Coy in the Nightingale Patrol. As a Guide, I learned to love the sense of adventure when we went hiking. The Cadet Lieutenants and Patrol Leaders organised the hikes once a month. We had that kind of freedom. Our parents trusted us. We climbed hills at Changi, hiked around MacRitchie Reservoir and crossed swampy muddy coves using fallen branches and tree trunks. I had no problems with the outdoors as I grew up in a kampong. My forte was climbing trees. I became Patrol Second in Secondary 2, became Patrol Leader in Secondary 3 and was Company Leader in my last year. I graduated in 1961. In 1962, I became a relief teacher at Kuo Chuan Girls' School and was asked to help out with Guides as Lieutenant. In 1963, I became a Trainee Teacher at the Teacher's Training College. I was attached to Kuo Chuan Girls School and Miss Sirkett appointed me as Captain of the Company. I was the youngest Captain in Katong District but fortunately I had Miss Wee Geok Neo as my mentor. I learned to lead the company through trial and error. In 1970, along with four other Guiders, I volunteered to attend the Footdrill and Armsdrill Course conducted by the Police at the Police Academy and by the army at Colombo Camp. We, together with the other uniformed groups (UGs) – the Scouts, Boys' Brigade and Girls' Brigade – joined this Government initiative for UGs to learn how to march, carry arms and shoot. Following this, I was appointed HQ Instructor, then Commissioner of Special Projects, Division Commissioner and, finally, Camp Commissioner. I was also a Guider of KCP 1
st
Coy throughout the years.
Please share with us a few of your thoughts on how Guiding has shaped you/your character and impacted you as a Guider.
My years as a Brownie and a Guide helped me to instill this sense of magic, adventure and the love of learning skills that are particular to Guiding, to all the Guides I taught. We learned to build fires using sticks, make dampers, roasted potatoes and grilled fish in banana leaves in embers without aluminium foil. I became resilient and more confident throughout the years. This also helped me a lot as a Guider, a teacher, a Coach and Head of Department(PE & CCA). I learned not to be afraid to try out new ideas and learn new skills, especially when I led Guides to International Camps.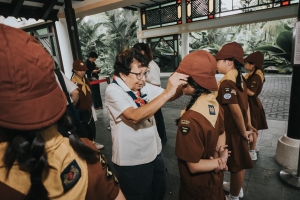 (Ms Hasna at GGS' World Thinking Day 2017.)
How are you involved Guiding today?
Now after more than 50 years in Guiding, my role is to pass on all the skills that I have to the next generation of young leaders. I am currently one of the advisors in the Camp Committee, and at the same time a mentor to young Guiders involved in Drill and Ceremony.
What words of encouragement do you have for our Guiders today as they all seek to impact the lives of their girls?
Believe in what you are doing. Remember that Guiding is a game to be enjoyed by young and old. Do not treat Guides as NS boys as you will kill the joy of learning in a fun way. Encourage creativity. Most of all, always be 'one up' over the girls. Be one step ahead of them. Always be in the know before you encourage your girls to do something. Keep the Guiding light shining, pass it on and don't let it die.
Return