International Camp 2022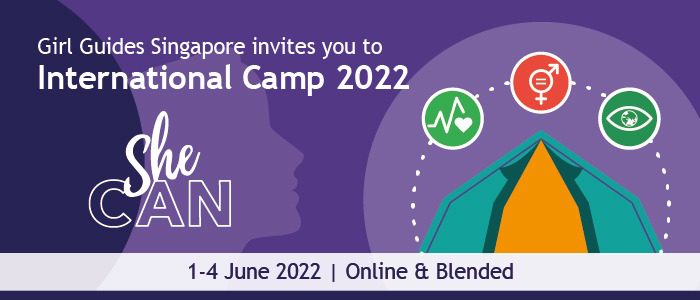 Dear Guiders, Guides and Brownies,
Hey! Hey! Hey! It's the event that many of us have been waiting for – Girl Guides Singapore International Camp She Can 2022!
A platform where local and international girls including young women connect and forge friendships, this camp will help to develop the girls' cross-cultural competencies and global awareness. Hosted once every 5 years by Girl Guides Singapore (GGS) with over 900 local and overseas Brownies, Guides, Young Adults and Adult Leaders, the GGS International Camp is one of our treasured international experiences.
Despite the current VUCA world, GGS would still like to continue with our Guiding traditions of camping! These past years have proved that we can be resilient, courageous and supportive. We not only continue to advocate and support our beliefs, but also strive to lend a hand in every way possible.
Opening our doors to GGS International Camp She Can 2022!
During this International Camp, participants will be empowered to speak up, speak out and take action on societal matters such as mental health awareness, environmental issues and gender equality in the local context. They will also get to interact and hear from their like-minded sisters-in-Guiding from all over the world!
This year, with the theme "She Can", the camp will be held in a blended format through virtual platforms and in respective schools/homes/outdoor venues*. This camp will take place from 1 June to 4 June 2022.
 *Units / Packs can choose to gather in school for the camp or log in online from home. There is also a plogathon activity on 4 June. Girls and Guiders are encouraged to participate in this at a suitable outdoor venue i.e. park near the school, etc. Alternatively, girls can go out with their family members to participate in the plogathon. Further information will be provided in April. 
Our distinguished guests for the International Camp include: 
President Halimah Yacob, Patron of Girl Guides Singapore 
Mr Chan Chun Sing, Minister for Education 
Ms Gan Siow Huang, Minister of State, Ministry of Education & Ministry of Manpower
The camp program begins from 8.30 am to 8.30 pm daily (except for the last day). Participants will have the option to choose their own activities and complete them at their own time and pace. There will be compulsory programmes for participants to be involved in.
The Camp fee is $40 per local girl and $110 per overseas contingent. The Camp fee includes a complimentary welcome pack that will be sent to all participants. Accompanying Adult Leaders will attend at no cost.   
To register, please access this link: International Camp 2022 Registration
Refer to Annex1_IC2022_SheCan for more details.
Should you have further queries, please drop a note here: Questions about International Camp 2022
Thank you and see you soon!
Sincerely,
Mrs Koh-Teh Yi Wen
Chief Commissioner