Meet our Senior Trainer, Jasmine! Jasmine went to the Juliette Low 2019 Seminar at Waddow Hall in the UK. By focusing on the unique WAGGGS Leadership Model, the seminar looks at breaking gender barriers to leadership and empowering girls to become women leaders. This #internationalwomensday, she shares with us her experience at the seminar and how this has further inspired her to encourage girls to take the lead in their own development so they can make a positive impact to the world!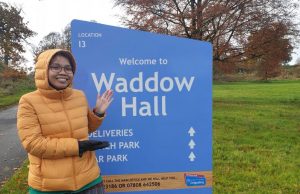 What has been your greatest learnings/takeaways from your training and seminar?   I was selected to attend the facilitator training for the seminar in Uganda in 2018. It was exciting as this is my first time being trained as a facilitator and facilitating for JLS. During the training and seminar, I was very surprised to find out that we face similar gender barriers across the globe in varying levels. We have participants who came from countries where it's a taboo to talk about gender equality and have very conservative views about women's role in society to participants who are well-versed in gender equality. The livid and enlightening discussions on gender equality were inspiring and helped us learn about how we can help girls and young women to Lead Out Loud. Leading Out Loud does not merely refer to the volume of your voices but rather, the volume of your actions. The quietest girl in the world has the same capabilities to Lead Out Loud. She is no less than the loudest man in the world. What was your most memorable experience from the training and seminar? One of the activities in our training session in Uganda was visiting a social enterprise village where the locals were teaching women of all ages to make reusable sanitary pads and diapers – necessities that were not affordable to the average woman. That experience helped me understand that there is so much yet to be done in order to strive for gender equality.
What was your most rewarding moment during the training and seminar?   The WAGGGS Leadership Model teaches us that every girl has the potential to be a leader. It was endearing to see how young women from 16 countries could come together and discover that all our experiences, we were all bound by the same struggles and successes. Women still face many challenges due to society's expectations of gender norms. Knowing that the participants will continue to inspire, uplift one another and create positive change in their lives is the most rewarding moment for me during the seminar.