As Mother's Day is nearing, we are here to share stories from our Guiders, on how they juggle the roles of being a teacher, a Guider and a mother, and how Guiding has impacted the way they nurture their own children. Zubaidah was a Girl Guide in her teenage years and she took up the chance to be a Guider when she started her teaching career 15 years ago. She shares with us why she believes in the Movement and on why she encouraged her daughter to choose Guiding as her Co-Curricular Activity (CCA) too.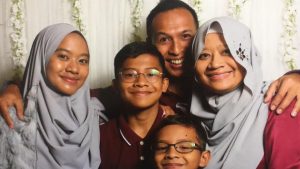 (Zubaidah with her family) Please share with us a bit about yourself I was a Girl Guide in my secondary school years. I am currently teaching at Changkat Changi Secondary School. I have been in the service for 15 years and has been a Guider since the start of my teaching career. I am blessed with a daughter and two sons aged 17, 14 and 9 respectively. What is it like juggling work, Guiding and motherhood? It can be quite challenging at times to juggle but adopting the Guides Motto "Be Prepared" had helped me to manage better in terms of many aspects. Even the Guide Law and Guide Promise had affected my life in many areas. I am thankful that I am able to cope well despite the hurdles that I went through throughout these years with the influence of the Guiding movement.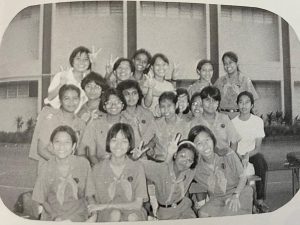 How has Guiding impacted the way that you nurture your kids?  Guiding has brought many positive impacts in my life since adolescent stage to adulthood. From my experiences in Guiding, I've learnt to influence others in purposeful or meaningful ways. I have always believed strongly in the Movement, the kind of positive impact it can lead to various platforms.  The photos below are pictures of myself and a friend of mine, Hasnita (Guider from Chongzheng Primary School), with our daughters. The old picture (above) was taken during our secondary school days as Girl Guides when both of us were appointed as Company Leader and Assistant Company Leader. The photo below was taken during World Thinking Day with our daughters. It is heartening to be Guiders now and to have our daughters on board the Guiding movement as well.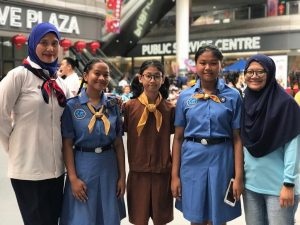 (Zubaidah (right) with Hasnita (left) and their daughters) What are some similar experiences you hope for the next generation to go through that you feel that you have benefited from? Guiding is truly a life skill Movement as it involves the holistic development of an individual. It focuses on many important areas of ones' life such as adopting good moral values and character. It also has great exposure in a variety of skills such as first aid, knots and lashes and even leadership skill that are applicable to everyone's life. This is also the reason why I got my daughter to join the CCA too of which she too had excel being the Company Leader in her Girl Guides unit. As a mother, I must always stay positive so that I am able to facilitate, help or guide my children to cope and balance their life better. I hope my children will be influenced and react in the same manner so that they are able to share similar learning experiences, good character with a positive attitude to the next generation.  I believe that knowledge and experience will help them handle complex situations with more confidence and assurance.